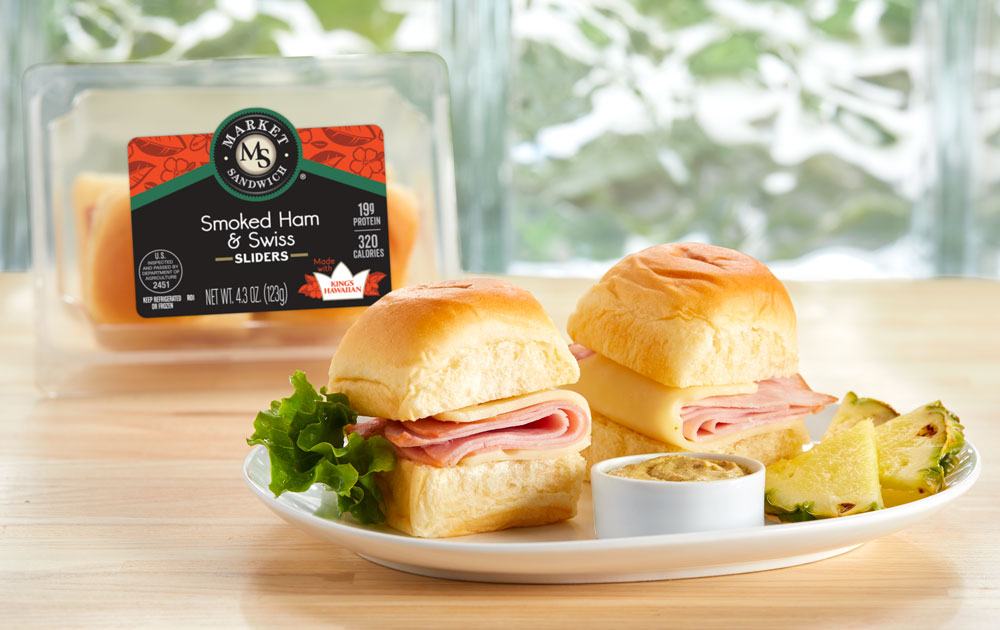 Market Sandwich partners with King's Hawaiian on a co-branded line of sandwiches on popular King's Hawaiian bread.
Eden Prairie, MN – May 5, 2020 – E.A. Sween Company is excited to announce 3 new sandwich flavors under its Market Sandwich brand in partnership with one of America's iconic brands, King's Hawaiian. The new line has three sets of sliders: Smoked Ham & Swiss, Smoked White Turkey & Cheddar, and Chicken & Bacon with pepper jack and jalapeno bacon, shipping to stores on May 1.
The two companies, both launched in the 1950's, are thrilled to combine their growing brands in the convenience and vending channels. Combining the landmark sweet bread from King's Hawaiian with Market Sandwich fillings presents a unique opportunity for food retailers. A December 2019 Technomic Brand Equity and Impact Study found that 86% of consumers are aware of King's Hawaiian, and 80% claim positive experiences with the brand. Market Sandwich has seen steady growth (40% from 2016-2019), and partnering allows each brand to benefit from the expertise of the other.
"Working with King's Hawaiian to create a line of delicious sandwiches is a fantastic opportunity for both brands," said E.A. Sween's President and Chief Executive Officer, Tom H. Sween. "We're thrilled to form a partnership that gives on the go consumers an exciting sandwich experience. It's a logical pairing that tastes delicious."
About E.A. Sween Company's Market Sandwich®
E.A. Sween Company is a third-generation family-owned company serving C-store, wholesale, military and supermarket customers around the country. Production facilities are located in Eden Prairie, MN and a new plant that opened in Annandale, MN in February 2019. With more than 1,300 employees, it makes and/or distributes products under the Deli Express®, Market Sandwich®, Simply Delicious® and San Luis® brands and carries other products through its direct store delivery services.
About KING'S HAWAIIAN®
Founded in 1950 in Hilo, Hawaii, by Robert R. Taira, KING'S HAWAIIAN is a family-owned business that for three generations has been dedicated to providing irresistible, original recipe Hawaiian foods made with Aloha Spirit. A priority for the company is sharing the Hawaiian Way – a uniquely Hawaiian approach to hospitality based on graciousness, generosity, and a commitment to making everyone feel a part of the KING'S HAWAIIAN 'ohana' (extended family). The company operates baking facilities in Torrance, California, and Oakwood, Georgia.